Rotate PDF, Share PDF, Add Notes using Microsoft Edge PDF Viewer
[ad_1]

Microsoft Edge, like it or not, has a lot of nice things going for it. One of the possible reasons why one would choose Edge over, say, Chrome or Firefox, is the great integration with the rest of the Windows 10 resources.
One of the fairly overlooked features is the complexity of the built-in Edge PDF Viewer. With the major update, users can even rotate PDFs and save them with ease and this gathered a lot of positive feedback. The steps are quick and straightforward. Let's get started.
Rotate PDF, Share PDF, Add Notes, etc, using Edge PDF Viewer
You can read PDFs and even rotate the pages on Edge browser. To rotate a PDF file in Microsoft Edge browser, follow the steps below:
1] Open the PDF file with Microsoft Edge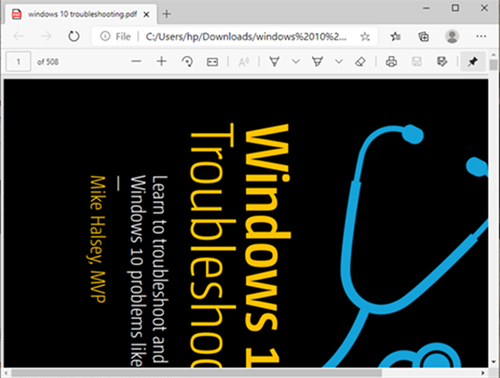 Now from the drop-down menu, choose Microsoft Edge. It would open the file on the browser and you'll see controls on the top of the page.
2] Rotate PDF
To rotate the PDF, just press the Rotate Button on the toolbar until the PDF is upright.
When that is done and you want to save, move to the top right of the browser and click on the Save logo.
Other Microsoft Edge PDF Viewer features
Apart from rotating PDF files, the Microsoft Edge browser has got some other great features that might interest you. Let's have a look and some of these features.
Change Page View Layout
Read Aloud
Share PDF
Draw/Add Notes
These features are further explained below-
1] Change Page View Layout
This helps users to switch between the Single Page and Two Page layouts. Click on the document and click Page view.
2] Read Aloud
Read Aloud is another new feature that lets one of the 3 narrators read aloud the content of the document. Users can choose between the 3 voices and regulate reading speed.
3] Share PDF
This is a great feature for fast and simple sharing of the document via Mail, Twitter, Skype, and others. Also, users can cast it to OneDrive or OneNote with one click.
4] Draw/ Add Notes
With the Draw options, users can use the physical pen on the touchscreen or add notes with your mouse. The choice is yours.
As you can see, now users can rotate PDF in Edge and much more in a rather seamless manner.
In a case where a user can't save PDF files on the Edge browser, the user may consider making use of Adobe Reader.
Edit and Save with Adobe Reader
Adobe Reader is a name associated with PDF documents. It is a complete package that allows users to edit PDF documents and even convert them to other formats.
To rotate the PDF in Adobe, First, open the PDF file with Adobe Reader.
Then go to the View tab and choose to rotate it as you need. After that, go to File and choose Save, or Save as.
Hope this helps.